March 2020 | 1533 words | 6-minute read
Raj Kishore saw his first tiger at the age of 8 in Bandhavgarh. He had secretly followed his father and other village elders into the jungle, and in attempting to hide from them found himself standing near a tiger.
Dipu Sasi's love affair with the jungle began with the birds of Kumarakom in Kerala, where he grew up, and expanded to every wild creature down to the tiniest insect.
Sangita Mani started her career in a staid corporate workplace and swapped it for the jungle because she couldn't shake away the memories of childhood visits to her grandfather at a Nilgiris tea estate and trips to places like Bandipur.
It is the enthusiasm and knowledge of naturalists like them that lies at the heart of the Taj Safaris experience.
Taj Safari lodges in Madhya Pradesh, featured as a "Best Value" destination on Lonely Planet's Best in Travel 2020 list, also include Banjaar Tola at Kanha and Baghvan at Pench — each offering a unique safari experience.
The latest Taj Safari lodge, Meghauli Sarai, is located in Chitwan National Park in Nepal.
Where it all began: Bandhavgarh
We begin our journey at Mahua Kothi in Bandhavgarh, Madhya Pradesh, where the Taj Safaris story began in 2006. The homestead is named after the mahua tree, emblematic of the jungles of central India.
Drawing inspiration from and blending into the wilderness is what makes Taj Safari lodges unique. "We maintain a light ecological footprint," says Nagendra Singh Hada, area director, Taj Safaris. "As far as possible, everything from the rooms and decor to the food is sourced locally."
At Mahua Kothi, they do so with 12 mud cottages that blend into 45-acres of wilderness on the periphery of the national park. They are earthy yet luxurious versions of homes of the local Baigas, one of the oldest Indian tribes.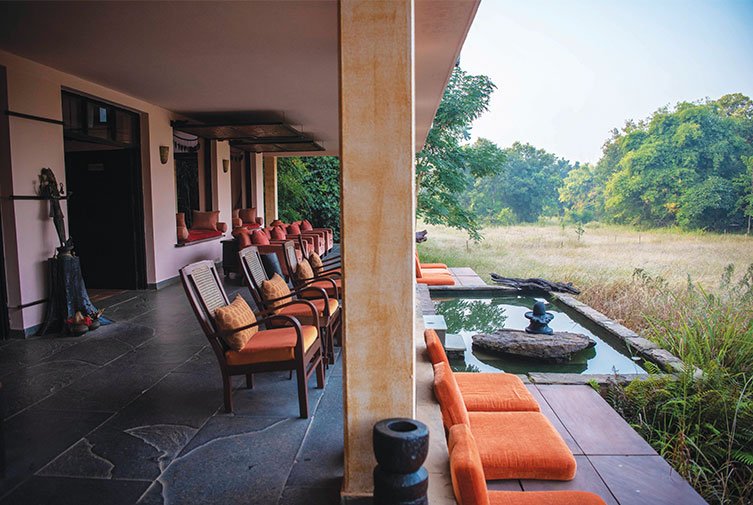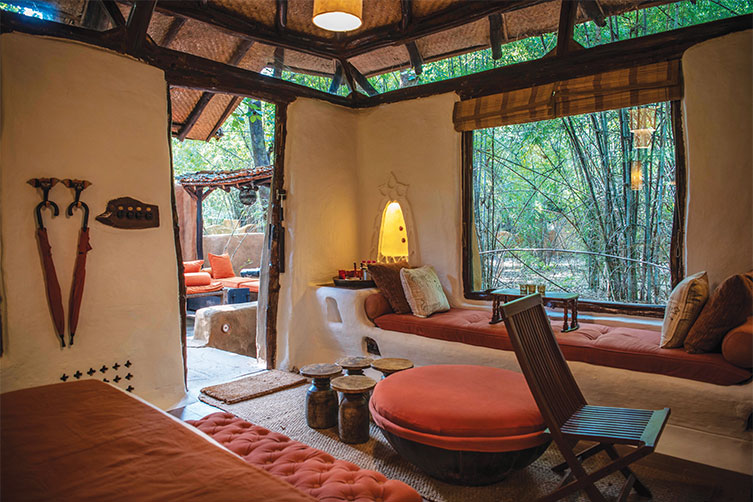 Amit Singhvi, lodge manager, Mahua Kothi, says, "We use only five acres of the property. The rest is left in its original state of wilderness. In fact, one of our cottages has a tree that goes through the room."
This theme extends to the food. What is grown locally is procured fresh from within a 10-mile radius. The rest is grown in the lodge's private organic gardens.
"We designed the menu for all the four lodges to give you a flavour of the local area," says Mr Singhvi.
Meals are a special experience at every Taj Safari lodge. A lavish breakfast with freshly plunged coffee and an assortment of teas is laid out deep in the jungle.
For guests like us who opt for both the morning and afternoon game drives, lunches can often be a quick affair. Dinners are a surprise, with a new experience in the wild each night. The highlight was a meal under a mahua tree at the edge of the grassland beside a lily pond. Seated beside a fire with Indian barbecues and cocktails of Mahua flowers, we dug into stories of the surrounding forest.
Bandhavgarh, with its grasslands, dense sal trees, bamboo thickets and knolls, was once the game preserve of the Rewa royals. It is peppered with landmarks like the Bandhavgarh Fort, cave shrines and a 10th century statue of a reclining Lord Vishnu.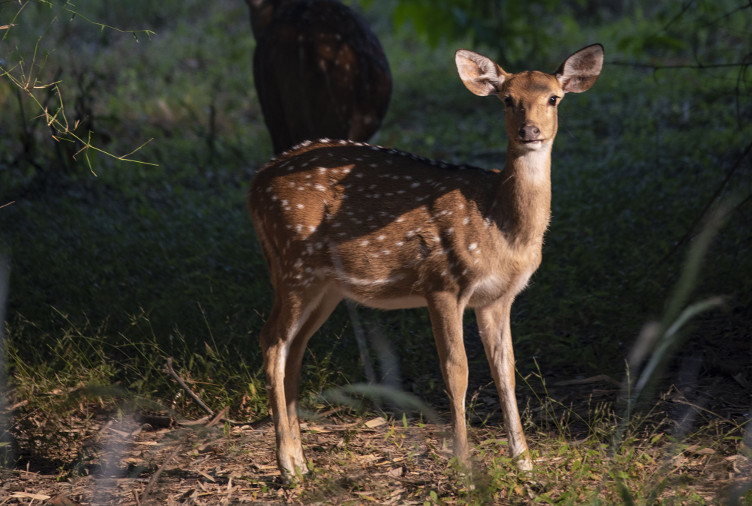 It is also said that all the white tigers of the world trace their roots to Bandhavgarh. Today, the national park is home to around 70 Royal Bengal tigers — the highest density of tigers in the world — making it one of the most popular backdrops for tiger spotting in India.
The forest lives up to the hype on the first day itself. After brushes with a mongoose, a barking deer, a herd of deer snacking with a troop of langurs in the core zone of Tala, a sambar's frantic alarm calls lead us to a thicket camouflaging a tigress.
The buzz is its T-42 (Solo) waiting for one of her three cubs — Bandhavgarh is currently home to at least 34 tiger cubs. We are in time to see a 13-month-old male cub languidly make his way to his mother and siblings.
Raj Kishore insists the jungle has a way of rewarding patience. So, while others disperse, we settle into the meditative sounds of the wild. And the forest does its magic.
A mere 5 minutes before we must head back, Solo and her cubs come out in the open. She rests under a tree, keeping an eye on the interlopers, while the cubs seem as carefree as kids in a playground.
That thrill of the first day lasts well into our last game drive, this time in the core zone of Khitauli. Bandhavgarh sees us off with one of the more elusive Indian safari experiences — a leopard with a fresh kill and over an hour of watching the master of stealth.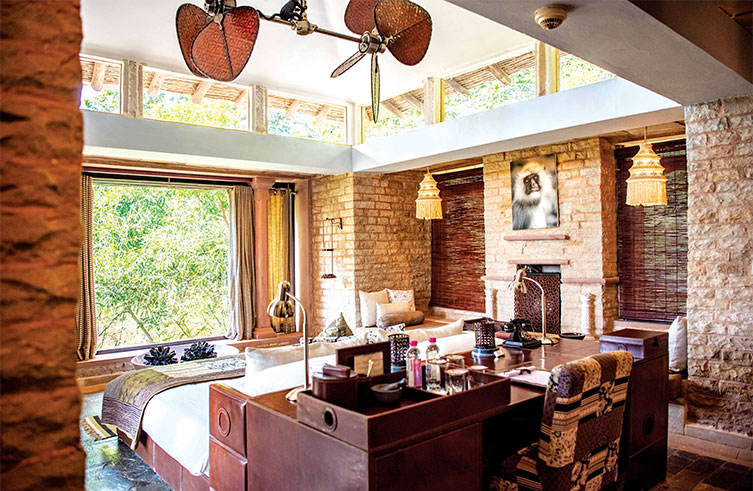 Into the Emerald Forest: Panna
The next leg of the journey takes us 200km north from tiger country into leopard country.
Panna is famous for its diamonds but gets its name, which means emerald in Hindi, from its green forests — home to at least 100 leopards.
It is the land of many terrains — plateaus, plunging gorges, majestic teak trees, winding river valleys and vast savannah woodlands — and a breathtaking array of wildlife. Apart from the commonly seen spotted deer, sambar, nilgai (the largest Asian antelope), langurs and wild boars; it is home to tigers, sloth bears, hyenas, pangolins, porcupines, crocodiles, four-horned antelopes (the only mammal with four horns), Indian gazelles and nearly 300 species of birds.
This wilderness is best experienced in the luxury of Pashan Garh, the biggest of the Taj Safari lodges located in Panna. "There is only one property in India that is set on 200 acres of forest land. Here, you are living inside the forest," says Amit Kumar, lodge manager, Pashan Garh.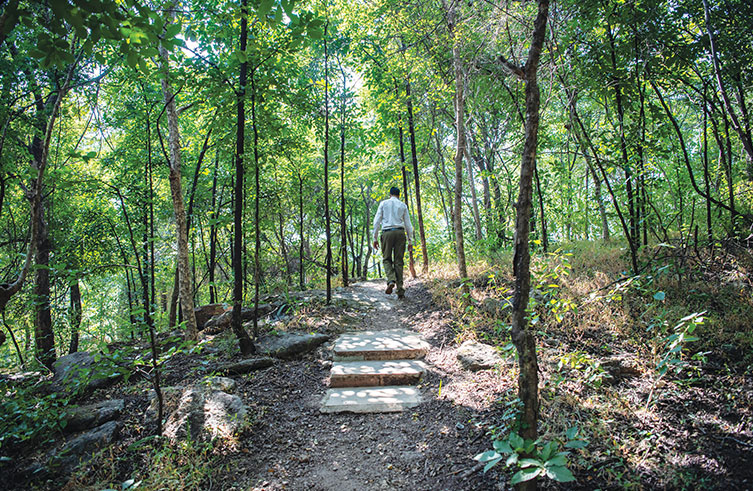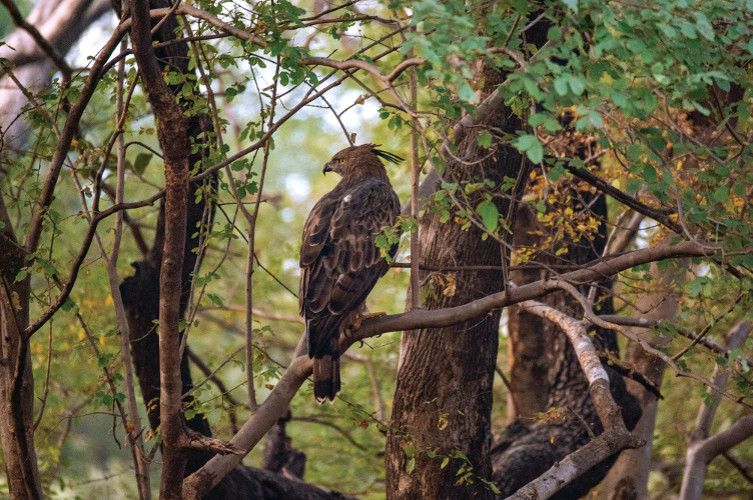 Pashan Garh emulates the African game reserves where animals live and move freely. The 12 stone cottages — each with a personal butler, chef and naturalist — ensure you have complete privacy from other guests. But it is not uncommon to come across spotted deer, sambar and maybe even a rusty spotted cat — considered the world's smallest wild cats. You might also spot markings of leopards, tigers and sloth bears.
Pashan Garh is located near the Panna National Park, which is divided into two zones. We plan to explore both, starting with the more popular Madla Gate.
Driving in at the crack of dawn, the jungle comes alive with the enthusiasm that Taj naturalists Dipu Sasi and Sangita Mani have for even its littlest creatures. A curious nilgai, a shy Indian gazelle, Rufous Treepies, Indian rollers, painted sandgrouses, a crested hawk-eagle, common kestrels, storks, quails, miniscule beetles and massive spiders keep us company as we track T-151, a tigress with a cub who is fighting for territory with her sister.
The tigress is restless, and we are guided as much by her roars as alarm calls and pug marks. As we sit in adrenalin-charged silence, listening to her roar, the success of Panna's fight for tiger conservation hits home.
Exactly a decade ago, the tiger population here had dropped to zero, largely due to poaching. Starting in 2009, the forest authorities began the uphill task of reversing that tragedy. They adopted a two-pronged approach of repopulating the reserve with tigers and rehabilitating the Pardhi tribe, blamed for much of the poaching. Taj Safaris supported the initiative by collaborating with the Last Wilderness Foundation to train Pardhis and channel their natural tracking talent into a 'Walk with the Pardhis', an immersive wilderness experience.
It was a moment of celebration this year when the park reopened after the monsoons in October with 54 tigers. We are told that the probability of spotting a tiger here is now similar to Kanha and Bandhavgarh, and it turns out to be true.
Almost soundlessly, T-151 emerges from the trees, saunters across the road and disappears into the woods.
The excitement lasts well into breakfast by the river Ken (Karnavati), which runs for about 55km through the park. It is India's cleanest river and a patrolling boat is available for a ride. But we stay put at the shore, tucking into Taj Safaris' exceptional breakfast spread while spotting creatures big and small — soaring vultures and swallows, resting crocodiles and even a crimson dragonfly.
The afternoon brings us back for more, this time via Hinouta gate, near the Panna diamond mines. For once, we don't have to face a crowd — a USP of Panna. We are alone in the jungle with peregrine falcons (the fastest diving birds), sloth bear calls, sparring deer, flying peacocks, courting turtles, feeding babblers and a leopard on the prowl at dusk.
The thrill of a stay at Pashan Garh is that the safari need not end at sunset. We return from the jungle with the promise of more — a night safari within the property, a bit of stargazing and finally a dinner in the wild with intermittent adrenaline bursting alarm calls. All ensuring that we will come back for more.
— Text by Monali Sarkar; Photographs by Tejal Pandey