July 2019
Do you have what it takes to take home the coveted Tata Business Leadership Award (TBLA)?
If you are a creative thinker, possess business acumen and are infused with an entrepreneurial spirit, this is the right platform for you.
Making headlines since 2002, TBLA is a case competition that invites Tata group employees to solve real-time critical business challenges relevant to the Tata group. The contemporary themes can help you gain insight into some of the latest concepts, industry trends, and company challenges while providing access to the top leadership of the Group.
If you think you have what it takes to think innovatively and provide cutting edge solutions, then let TBLA be the catalyst that takes you to the next level of excellence!
The Theme for 2019
This year's theme is "India Opportunity".  As one of the world's fastest-growing large economies, India is expected to become the world's third-largest consumer market by 2030. Download the detailed concept note from here.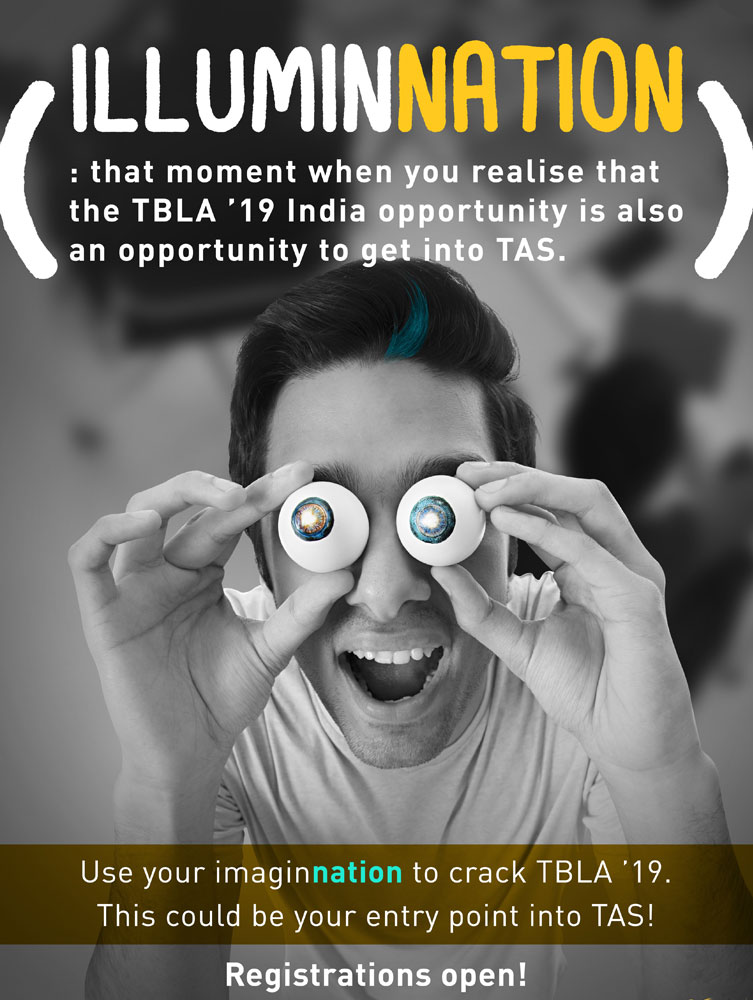 Our knowledge partner for TBLA 2019 is Tata Strategic Management Group (TSMG)  - the strategy centre of excellence of the Tata group. TSMG works closely with the Executive Chairman and leadership to develop and support the implementation of the Tata group's overall strategy and individual company strategies. Aligned to the key businesses of the Tata group, they focus on group-wide strategic priorities while supporting the incubation of new businesses.
Schedule and Process
In-house
Campus
FAQs
How do we form a team?
For In-house, each team must consist of three members and all the team members must belong to the same Tata company. For campuses, the team from a campus may include either first or second year. 
Can we collaborate with our colleagues across geographical locations?
For in-house, it would be ideal if the team members belonged to the same location; however, it isn't mandatory. For instance, even a mix of members from both Tata group In-house and International locations will be acceptable.
For campuses, if a member of the team is not in the city because of an exchange program, it is still possible for the team to participate provided the other two members are present during the presentation phase. 
Is there an age limit?
Age is truly a number here as there is no age limit to apply to TBLA. However, when a team is amongst the top 3 teams of TBLA, the application to TAS is subject to meeting the TAS eligibility guidelines as defined.
Do we need to travel?
Your presentations will need to be submitted online on the link provided on this page (see schedule above). However, the TBLA Finals will be held in Mumbai. At the Finals, each team will get a Group level case based on that years' TBLA theme.
Where do we submit our online PPT?
The link would be provided here as per schedule above.
Prizes!
Winner 
INR 5,00,000 as Prize Money

Direct shortlist to the TAS PPI*
First Runner Up
INR 2,00,000 as Prize Money

Direct shortlist to TAS PPI*
Second Runner Up
INR 1,00,000 as Prize Money

Direct shortlist to TAS PPI*
*Subject to meeting the TAS eligibility criteria i.e.: As on 1st April 2020, applicants to have total professional work experience post the Bachelor's degree, of not more than 6 years.
Log In
In-house: Log In
Campus: Log In
Downloads
"The India Opportunity" - Concept Note on the current year's theme.
Contacts
Write to us at tbla2019@tata.com for any questions you may have. We're happy to respond!